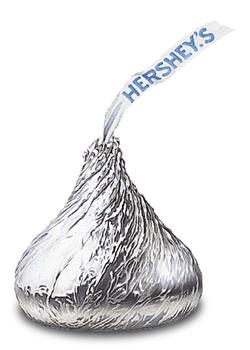 By Kelly Thompson
WE MOVED TO THE NEW TASTYMADNESS.COM
I would like to share my first recipe.  This recipe is called "back-up" and have several hundred of these.
It's 3:00 a.m. and it's time for a little snack.  Sleeping has gone well up to this point but now  sugar is needed to get through til 6:00a.m. or so.  It's imperative that you have a night stand for this.  Purchase a bag of Hershey's Kisses and stick them in the drawer of your night stand.  Upon waking, remove several, I like at least six, open them all at once and shove them all in your mouth.
I firmly believe if your going to enjoy the full chocolate flavor, six of them are needed.  (Beginners are encouraged to start with 3) I can't say that I do this everyday, but it been apart of my life for more years then I can remember, and I know Jenny Craig would have some issues with this, but Jenny don't know jack about Chocoholics!